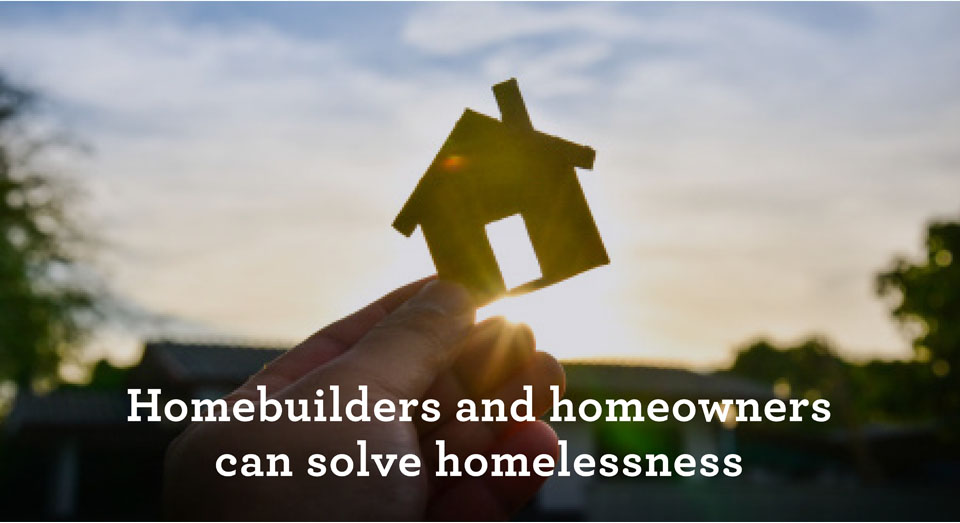 about us

HOMEFUL facilitates an innovative partnership between homeowners
who collaborate to help end homelessness.
Through voluntary homeowner participation, HOMEFUL has created a unique, ongoing and expansive
source of giving that promises to transform the fight against homelessness.
This innovative model has been carefully designed, tested and proven in the housing market.

HomeFul's Plan

HOMEFUL charitable funds will be distributed to qualified 501(c)(3) public charities working to eradicate homelessness.
Contributions made to HOMEFUL will stay in the general community in which they were donated, allowing citizens to work together for the betterment of their own neighborhoods.
Funds will be distributed to housing projects that provide temporary and permanent shelter with a strategic focus on providing beds to increase capacity, as well as underwriting operational costs for care providers.
Our focus is on emergency housing for women and children, specialized youth housing, housing solutions for Veterans, "housing first" buildings and more.

STAFF
MAKING AN IMPACT ON HOMELESSNESS
Anh Nguyen

Anh Nguyen was born and raised in Saigon, South Vietnam. After finishing high school, she won a national scholarship to pursue a college education in the US. When the Vietnam war ended in 1975, she was an undergraduate student at Southern Illinois University at Carbondale, Illinois, then later earned a Bachelor's Degree in Journalism with a concentration in Marketing and Advertising.

She went on to achieve higher education and graduated from Ohio University in Athens, Ohio with a Master's Degree in International Affairs. She held several tax and financial positions at different financial institutions in Orange County, California, as well as serving as a Volunteer Coordinator for the South County Region of the County of Orange in Santa Ana.

In 2007 she began joining the accounting team at Lennar Charitable Housing Foundation (LCHF), a non-profit in Aliso Viejo, California, while enrolling to practice before the Internal Revenue Service (IRS) since 1992 and being a member of a tax team at a local CPA firm since 1987.

Gabrielle Angeles

Gabrielle Angeles is a Staff Accountant for Lennar Charitable Housing Foundation (LCHF). She has worked with LCHF for 6 years.

Ms. Angeles graduated from UCLA with a B.A. in World Arts and Cultures. After traveling and working abroad in Japan, she moved back to the United States after receiving an arts commission to apprentice and work with the Kenny Endo Taiko Ensemble. At the end of her apprenticeship, Ms. Angeles wanted to apply herself towards community based work. She has worked with many other non-profit organizations (NPOs) prior to LCHF. Some of these include NPOs such as Venice Arts in Neighborhoods, the Los Angeles County Arts Commission and the YMCA.

In her spare time Ms. Angeles enjoys yoga, dance, the aerial arts and flow arts.

BOARD OF DIRECTORS
LUCY DUNN

Lucetta "Lucy" Dunn is president and CEO of the Orange County Business Council. OCBC serves its business investors and the Orange County community in leadership and advocacy to enhance the county's economic development and quality of life through its efforts to increase workforce housing, improve workforce development and maintain adequate infrastructure.

Before joining the Business Council, Dunn was appointed by Governor Arnold Schwarzenegger to serve as Director of the California Department of Housing and Community Development. Dunn's position included oversight for administering the state's housing law, finance, rehabilitation and community development programs. In the private sector, she served as Executive Vice President of Hearthside Homes, a division of California Coastal Communities, one of Southern California's premiere home builders.

Dunn received the California State Legislature "Woman of the Year 1997" for her civic involvement, influence and participation in public policy task forces. In 2001, she served as the first woman president in the 80-year history of the Building Industry Association of Southern California. In 2005, she received CBIA's "D. Gregg Brown Award" for her work advocating for housing and homeownership.

Dunn is admitted to practice law before the California State Bar, the federal bar and the U.S. Supreme Court. She has also been a director, advisor and member of scores of non-profit organizations including the Building Industry Legal Defense Foundation and the Bolsa Chica Conservancy.

Dunn is the mother of two sons and resides in Coto de Caza

Scott Jackson

Mr. Jackson concentrates in real-estate law and is a founding shareholder of Jackson Tidus. He chairs the common interest subdivision group of the firm, which has created over 1,000 community associations.

Mr. Jackson has authored several books and articles including two chapters in California Condominium and Planned Development Practice, published by the California State Bar. He also co-authored the book entitled Condominiums and Cooperatives with the Assistant Attorney General of the State of New York, and he co-authored the textbook Business Condominiums published by the National Association of Home Builders.

A past president of the National Community Associations Institute, Mr. Jackson is a member of the American College of Real Estate Lawyers and a charter member of the Board of Governors of the College of Community Association Attorneys. In addition, he is a member of the Homeowner Association Dispute Resolution Task Force of the California Building Industry Association and a member of the CBIA Committee on Master Planned Communities.
Chris Leavell

As chief operating officer, Chris Leavell has overseen the day-to-day operations for First American Title Insurance Company's domestic businesses since December 2011. A proven leader, he has served in a number of roles since joining the company and has been credited with improving the operational efficiency and effectiveness of several of the company's divisions over the years, including mortgage services, national production services, offshore, and default.

Leavell began his career with First American's Lenders Advantage Division in 1997 as general manager of the California division. He was then quickly promoted to president of eAppraiseIT in 1999. After being appointed president of the Default Information Services Group in 2005, he reorganized the company's default businesses in time for the company to take full advantage of the real estate cycle at that time. In addition, he is credited with taking the default group into other asset-backed categories with the formation of the company's Subordinate Lien Outsourcing group. Most recently, Leavell had served as executive vice president and division president with responsibility for the company's lender-focused title business, national production services, and companywide offshore strategy and execution.

Prior to joining First American, Leavell held various managerial and finance positions at Weyerhaeuser Mortgage Company and Countrywide. He earned a bachelor's degree in political science from UCLA and an MBA in finance from the University of Chicago.

JEFF ROOS

Jeff Roos is the Western Regional President for Lennar Corporation. He began his career with Lennar in 1995, when he started and led the Orange County division that served as the foundation for Lennar's entrance into California. At that time, he was responsible for all homebuilding activities, financial restructuring and the subsequent sale of Bramalea CA to Lennar.

Mr. Roos founded the Lennar Charitable Housing Foundation, which was the predecessor for Australia's Homes for Homes program, as well as the Home(ful) Foundation in the United States. He also serves on the boards of HomeAid America, The Orangewood Foundation, the Boys and Girls Club of the South Coast Area and is also involved in a number of charities based overseas.

He currently resides in Newport Beach, CA with his wife Valerie and is the father of two grown daughters Marissa and Briana.
Carol Lindstrom

Carol Lindstrom has recently retired as vice chairman of Deloitte LLP, where she led strategic relationship management, and was also president of the Deloitte Foundation. She was a member of the Deloitte & Touche Board of Directors for six years and served on the Deloitte Touche Tohmatsu (DTT) Global Board of Directors for eight years. She now serves as a special advisor at Carrick Capital Partners, an investment firm focused on technology-enabled businesses.

Lindstrom held many management and client leadership positions during her Deloitte career, including managing director of global strategic relationship clients in the United States; managing director of Deloitte's e-business unit, dc.com; managing director of the Americas technology practice; managing director of the San Francisco and Orange County practices; and lead advisory and client service partner for many significant clients. She joined the firm in 1995 after having served as a partner at Andersen Consulting for many years. Lindstrom also serves on the not-for-profit board of the Workday Foundation, and recently completed an 8-year commitment on the board of UCLA Anderson School. Based in Silicon Valley, she received a bachelor's degree from the University of California, Los Angeles.

Todd Henderson

Todd is an award winning professional with 25 years of experience in the creative services industry. Currently the President and co-founder of INK, an integrated brand and marketing firm in Irvine, CA. Todd has built a reputation as a creative and strategic advisor to some of the country's most recognized and respected companies helping strengthen brands like Dell Software, TimeWarner Cable, Yokohama Tire, Shea Homes, Hoag Hospital, NextVR, Guidance Software, Baja Fresh and Legendary Pictures enabling them to better position their brands and grow their businesses.

Prior to founding INK in 2007, Todd served as a creative executive for firms such as Viant, Fuse, iXL, and DreamWorks SKG and remains deeply involved in the creative community. Todd currently serves as a board member of Base11 and has previously held board and advisory-level seats at The Festival of Children and The Boys and Girls Clubs of Capistrano Valley where he has actively supported the clubs' efforts both personally and professionally since 2011.

Todd and his wife of 23 years, Katherine live in Ladera Ranch and have two sons; Jack, a Junior and Charlie, a Freshman at JSerra Catholic High School. In his rare moments of spare time, Todd is quite active and enjoys being mediocre at golf, as well as mountain biking, hiking and playing basketball with his two sons.
Advisory Council
Emile Haddad

Emile Haddad is FivePoint's Chairman and Chief Executive Officer. Haddad leads the executive team that manages FivePoint's communities.

Haddad cofounded FivePoint in 2009 and has headed it since then. Previously, Haddad served as the Chief Investment Officer of Lennar, one of the nation's largest homebuilders, where he was in charge of the company's real estate investments and asset management. In this capacity, he led the acquisition, capitalization and development of The Great Park Neighborhoods, Newhall Ranch and The San Francisco Shipyard.

Haddad serves as Chair of the Board of Trustees at the University of California, Irvine Foundation. He sits on the Real Estate Advisory Boards of the University of California, Irvine and the University of California, Berkeley. He is also a member of the University of Southern California's Price Planning Program Advisory Board and the University of Southern California's Lusk Center for Real Estate Executive Committee. In addition, he currently serves on the boards of PBS So-Cal and Claremont Graduate University.

Peter Simon

Peter Simons joined HomeAid America as CEO in March of 2013. Prior to joining HAA, Mr. Simons spent 20 years as a homebuilder, the bulk of it with Beazer Homes, one the nation's ten largest homebuilders. Mr. Simons' roles at Beazer included Colorado Division President (at which time he served on HomeAid Colorado's Board of Directors for over ten years), Senior Vice President of Corporate Development for Beazer's Corporate office in Atlanta, and initially as Director of Operations for Lokelani Homes, the Hawaii Division of Beazer.

Mr. Simons graduated from the Yale School of Management in 1989 with an MBA. Before earning his MBA, Mr. Simons worked on Capitol Hill in Washington D.C. for five years, serving as Sr. Legislative Aide to Senator Daniel Inouye of Hawaii. Mr. Simons earned a BA from Yale University in 1982, majoring in Economics and Political Science.